---
Does your pet leave hair everywhere?
Our mission was to make the most effective solution to remove your pet's hair from all over the house - and here it is. Meet the Pet Hair Remover Roller!
WHY THE ROLLER?
 Easily remove pet hair - The 2-way roller helps you pick up all types of fur and pet hair instantly. Works on almost every flat surface including your sofa, couch, carpet, bedsheets, clothes.
 Cost-effective - Save on lint rollers! - Stop wasting money on ineffective lint removers. This roller is 100% Reusable, which means it's the last pet hair remover you will ever need. 
 Easy to use; Easy to empty - Simply roll The Furraser back and forth on the surface you want to clean, open the container, and empty the collected hair. 
 Portable, light, and durable - Unlike heavy vacuum cleaners and other hair removers, The Furraser™ only weighs 200 grams. You can quickly use it anytime and anywhere without a power source.
 No adhesive or sticky tape - The Furraser™ has no lint. It is made of a high-quality microfiber surface and includes a strong rubber that inserts the fur into the back container.
The Roller has a microfiber surface and rubber inside. Once you roll it back and forth on the surface, the rubber picks up the fur/pet hair into the back container.

When you're done simply open the container, empty the fur inside and the roller is ready for another use.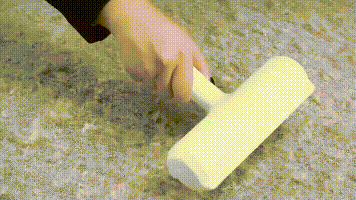 Package Include:
1 x pet hair remover